Sweet potato is a very healthy tuber and can be used in several dishes.I have found dishes made from this wonder tuber in several cuisines across the world. The many health benefits associated with sweet potato made me want to use it at my home too.To my delight, my old neighbour Renuka had a simple recipe using this vegetable. I learnt this unbelievably simple-to-prepare-yet-very-tasty halwa from her. After jazzing it up with some fragrant cardamom powder, no one could guess the base of the halwa. Do try it out for it's ease of preparation and for the whole world of benefits this wonder tuber has to offer.
What's good about sweet potato?
Topping the list of benefits is the high Vitamin A content of sweet potato – 25 times more than that of carrots!
One serving (200gm,= 1 cup) of sweet potato cooked, takes care of a quarter of fibre needed for a day, Staying away from refined, sweet foods and still getting a 'healthy sweet dessert' was never so easy and rewarding !
Sweet potato is a great source of Vitamins B and C too - Again 10 times more Vitamin B and C available than in carrots. It scores high on minerals such as Magnesium, Manganese, Potassium and Calcium too. This unique combination makes it worthwhile to include the tuber in diets of teenagers (rapid growth), sports people (essential minerals). Good for people with high blood pressure too since it is naturally low in sodium.
The purple-flesh varieties are outstanding sources of anthocyanins, especially peonidins and cyanidins –very powerful natural anti –oxidants. This group of flavonoid compounds also help in maintaining strength of blood vessels and capillaries, reduces inflammation at the tissue levels and inhibits formation of LDL cholesterols.
Interested in including sweet potato in your diet? Read on for a simple recipe…
You need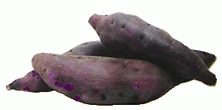 Sweet Potatoes – 750 gms
Jaggery – 300- 400 gms, depending on your sweet tooth
Fresh grated coconut – 100 gms ( desiccated coconut will do just fine too)
Ghee – 1+1/2 tbsp.
Fresh water – 1 cup
Green cardamom powder – 1/2 tsp.
To assemble
Wash, peel and chop sweet potatoes into 1" squares, any even size will work.
Pressure cook the sweet potatoes with 1 cup water for 2 whistles. I used a pressure handi and pressure cooked, and stirred up the halwa in the same pot.
Mash the cooked tubers into a coarse mush.
Pound the jaggery into small chunks (if you had a huge chunk to begin with). Measure out 300 gms with a kitchen scale or you could use 2 level cupful. Add it to the mushed up sweet potatoes, add 1/2 cup water if the mixture looks very dry, and stir up over medium heat. Once the mixture begins to bubble, add the ghee and blend it in too.
Your halwa should be ready in 10 minutes of stirring over medium heat. Look for a glaze, sheen to the halwa to check it's done-ness. Mix in the grated coconut, sprinkle green cardamom powder and you are ready to go! Serve warm, garnished with extra grated coconut if you wish.